Worthstone is thrilled to launch the Impact Awards 2019
The first awards for the UK retail impact investment community.
First showcased at the 2018 Social Investment Academy, the Impact Awards returns for its second year celebrating best practice in the retail impact investment sector; championing advisers, advisory firms, fund managers and discretionary fund managers (DFMs) who are leading the market in aligning retail investment strategies to achieve positive social and financial outcomes.
We believe, by celebrating achievements and showcasing best practice, the rest of the sector will be inspired by what can be achieved when impact is embraced within our investment market.
When asked to comment on her involvement she said: "I welcome the launch of the Social Investment Academy Impact Awards. This initiative from Worthstone supports the objectives of the Implementation Taskforce to improve the knowledge and confidence of financial advisers and wealth managers in the sector. I hope it will help to both stimulate and celebrate progress in social impact investment.

Elizabeth Corley, CBE, Vice-Chair, Allianz Global Investors and keynote speaker at the 2017 Social Investment Academy, presented the awards to Impact Champions.
Entries open for 2019
Is your firm committed to offering your clients an impactful investment approach which aims to meet financial objectives as well as generating positive impact? We would love to hear from you.  Worthstone is delighted to announce that the Impact Awards will again be showcased at this year's Impact Investment Academy on the 19 November 2019. 
Our initial award categories will be celebrating best practice in the following areas:
Impact Award for Financial Advisory Firm
Impact Award for Asset Manager Firm
Impact Award for New Product Launch
Enter through our online form by midnight on the 8th October 2019. 
For further details, please do not hesitate to get in touch
2018 Champions were awarded in the following categories: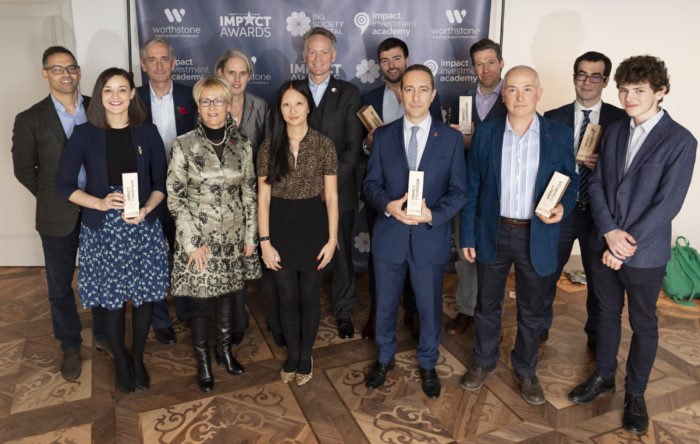 Impact Award for Individual Financial Adviser
Darren Thomas from Thomas & Thomas Ethical Investments
Impact Award for Financial Advisory Firm
Ayres Punchard Investment Management
Impact Award for Asset Manager Firm
WHEB Asset Management
Impact Award for Discretionary Fund Manager
EQ Investors
Impact Award for New Product Launch
Hermes (collective) for the Hermes Equal Opportunities Equity Fund
Resonance (direct) for the Resonance West
Midlands SITR Fund